Céile Dé Groups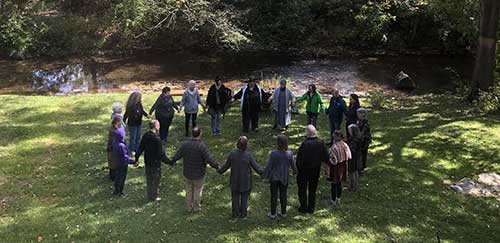 These days, it's possible to join a Céile Dé group no matter where you live in the world, as long as you are willing and able to travel once every year to the same annual teaching retreat that is attended by the other members of your group: currently, these gatherings take place in England, Scotland and the USA (Northwest, California/Southwest, Northeast, Southeast and Ohio).
As well as deepening their understanding of the tradition at annual teaching retreats, Céile Dé Groups meet regularly to meditate together, to mark the festivals, and also to share their insights into the teachings and practices they have been working with.
How do Céile Dé groups meet?
Most of our groups meet in person; some choose to alternate physical and online meetings using Zoom, appreciating the advantages to both ways of connecting; a small number of groups can only meet online, due to the far-flung nature of their membership: whilst all of our groups look forward to being together for a few days during their annual teaching retreats, this is something our online group members particularly look forward to.
Groups that are not listed on this page
Not all Céile Dé groups are listed below; this may be for reasons that are temporary, perhaps because a certain group feels they cannot take in new members for a while. It is also our current practice not to list groups who only meet online, because it makes them too easy a target for passing surfers with, at best, only a casual curiosity. Newcomers are welcome to join an online group if they have been introduced by a current member or after they have attended their first Teaching Retreat.
Before you make contact
Céíle Dé is a path that requires dedication and commitment to the inner life, this is clearly described to newcomers right from the start. To understand more about this, read;
"A History and Vision Statement for Céile Dé Groups" on our Articles page and also
"What happens next if I want to join a Céile Dé group?" on our FAQs page.
Please read as much as you can on this website before contacting one of the groups listed below about membership. If none of the groups listed below work for you we may still be able to connect you with an unlisted group, contact us directly if you have any unanswered questions about groups or teachings close to you.
Our Groups