Céile Dé Prayer Beads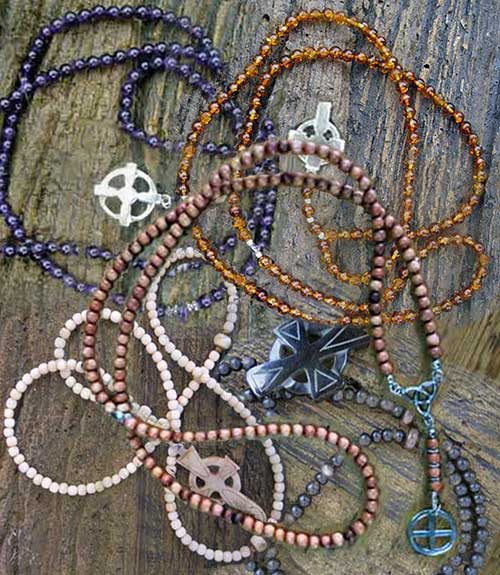 The Paidirean (Gaelic. pron. PAH-jur-in) has been a part of the Céile Dé tradition for centuries. It seems they were also used in other Celtic Christian communities, prayer beads described in the writings from the days of St Columcille, or Columba, had the same number of beads.
Although the encircled cross is an ancient symbol found in traditions all over the world and throughout the ages, many people associate it particularly with Celtic Christianity. We have chosen some very special Celtic crosses to accompany our prayer beads, some of which have been specially commissioned for us.
Whenever possible, the beads we use are carefully sourced from craftspeople for whom their creation is a spiritual practice. There are two bead sizes – 5mm and 6mm – producing a slightly shorter or longer paidirean, depending on your taste. Exact measurements are given beside each individual paidirean style.
"It feels a very personal thing, each little bead placed mindfully and prayerfully on to the thread that runs through the centre of them all and then by some mysterious force all pulled tightly together.

Holding the paidirean I too feel connected… like the beads on the thread I am on a common thread - connected. Now... pull in tightly."

- Peter, Wales
A Two-hour Long Paidirean Stringing Ceremony Dedicated to You
After you have chosen and purchased your paidirean, we will email you to let you know the exact date and time of your paidirean stringing ceremony. Attached to that email will be a simple paidirean information and instruction leaflet which includes two traditional Gaelic prayers (with translation and phonetics) to help start you off. If however you would like to actually hear the prayers and receive a more detailed teaching on how to use the paidirean, you might be interested in our "Praying with the Paidirean" CD
Drawing together all of these special ingredients, each Paidirean is ceremonially strung in Scotland by a Céile Dé Order member. One of the things that makes these prayer beads so special is that each ceremony is exclusively dedicated to the person who will use the paidirean. A paidirean-stringing ceremony takes almost two hours, beginning with a meditation and then continuous prayer during the actual stringing. Finally a blessing is spoken over the completed paidirean, which is anointed with oil and with water from our local holy well, which has been in use for at least 1500 years and is dedicated to St Mobhi.
Paidirean Re-stringing
It is said to be a good omen when one's paidirean breaks! As of 2023, each new paidirean will arrive with a few spare beads so that you can re-string your own paidirean or ask a local jewellery maker to do it for you. We hope that won't happen for a long time, but as it is a working piece of jewellery some of its parts will wear out after a time. We also offer a Paidirean re-stringing service, but realise that this can be an expensive project if you are having to cover the cost of posting your paidirean to Scotland from another country - and then back again!
If, despite the cost entailed, you still wish to have your paidirean re-strung by us, please read the information on this page carefully before completing and submitting the paidirean re-stringing form at the foot of that page. Please DO NOT post your paidirean to us until we have responded to you.